HorseTalk: Lessons in Leadership
You've heard me talk about it, now come and do it with me.
What is HorseTalk? (here is an abbreviated version, email for more info)
An energizing leadership experience with lasting results!
A unique way to confront what's impacting you: What is preventing you or your team from reaching its highest performance?
A day like no day you have experienced before
You Can't Lead a Horse If You're Not Clear Where You're Going
You can't lead a team if you don't know where you are going either.
Here's a secret:
A horse does not care what degrees you have, your title, or the bonus you receive at the end of the year. A horse is not impressed with your position, and will not cooperate with you because of the alphabet soup of letters after your name.
What does that mean for you?
Horse guided learning is a unique way for you to uncover and rediscover how to communicate your value in your company and in your marketplace.
Are you ready to learn something new in a new way?
By combining practical business experience with the knowledge gained from years of horse experience in this one-day of educational escapism I partner with a trained staff will help you see yourself through someone else's eyes. This someone else just happens to be a horse.
As a Communication Coach, my job is to help you use communication to advance your agenda. In order to do that, you have to use communication to create buy in.
HorseTalk is a unique approach to the coaching process. It incorporates one of life's natural leaders, the horse, along with a human coach to create a safe setting for exploration. The horses provide immediate feedback and insights, allowing you to learn quicker and move faster in your development process.
"HorseTalk: Lessons in Leadership" is a one-day workshop for executives, their teams and business owners.
Here are just a few of the outcomes from this day:
Heighten awareness of leadership styles
Uncover your appreciation or lack of for team dynamics
Learn "no" when you mean no & "yes" when you mean yes
Uncover behaviors that negatively impact your clients & employees
Earn trust more quickly by aligning what you do & what you say
Try new leadership styles, communication methods and relationship-building tactics in a safe environment
If you can get a horse to trust and follow you, you can do the same with people!
Prior experience with horses is not required. All leadership activities are done on the ground. No riding is involved.
"HorseTalk is a wonderful opportunity for self study, critique and reflection in a safe, fun environment! What a great learning exercise to be able to look in your own mirror and have the chance to work with other professionals towards self awareness in beautiful surroundings! Thank you for the great experience - I continue to work the process day to day and have grown professionally."
Deborah S. Plate, DO, FAAFP
Akron General Center for Family Medicine
Leadership Workshop Includes:
One full day filled with interactive leadership activities
Catered lunch and snacks
Positive and challenging feedback from a two member professional staff and the herd of horses itself!
Dialogue on leadership challenges, and essential skills
Personal leadership development action plan
2 Professional Coaching conference calls after the workshop
Escapism: Breathtaking views and relaxing environment on a farm!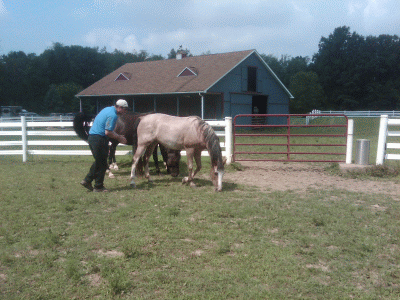 Don trying to exert forward motion.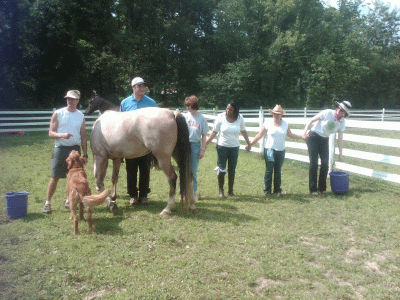 Team had to work together and get the horse into the pocket w/o talking.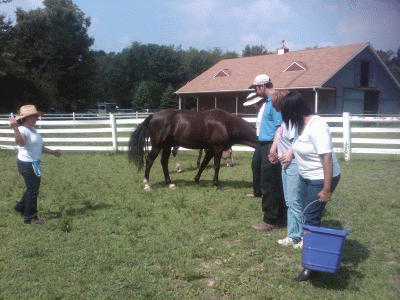 The person outside the buckets was given 30 seconds to lead the team and speak.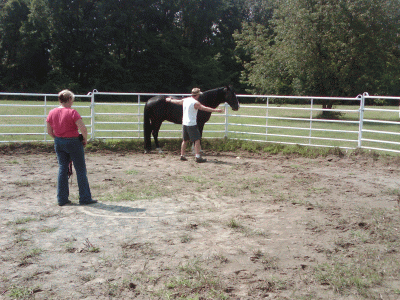 Each person had lead the horse around the ring. The horse is a metaphor for their specific challenge.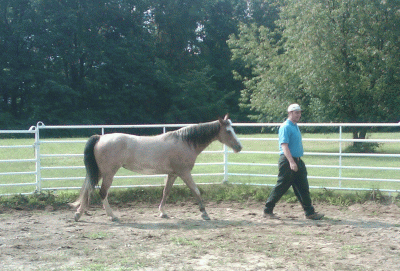 Once you know where you're going, the horse will follow.
Where:

You drive an hour for a good golf course, so 45 minutes for this unique experience will not be a problem for you. This workshop will take place in Mantua, Oh in partnership with LeadershipEAD, LLC.

4637 Streeter Road
Mantua, Ohio 44255
Cost: quoted upon request
"Not knowing what to expect, the Horse Talk session I attended was amazing. The techniques and strategies on dealing with people that I took away from the session, successfully come into play every day."
Anne Collins, Executive Director
Ronald McDonald House of Akron
"My time in the pasture at HorseTalk was very insightful and I feel that my leadership abilities have improved dramatically from the experience. The one lesson that I have found to be the most beneficial is that I do not need to be standing alongside my employees and hold their hand every step of the way. Once they are motivated and moving in the right direction I need to take a step back and let them keep the momentum moving toward the end goal."
Jason Schatzel, CFO
Canton Local School District
"The workshop HorseTalk was .... well hard to describe! It was an experience. It required me to think in different ways about communication than I ever had to do before in my 26 year career. It was a workshop that was enjoyable yet left me reflecting and pondering about it often, more often than any other workshop I have ever attended. I have learned things about myself in that workshop that I carry with me always."
Lisa Rogers, Director of Special Services
Canton Local Schools