My dad was a Republican for most of his life.
My mom used to refer to him as a "staunch" Republican. As I was growing up we used to argue over every political issue. But I was free to argue. Differing opinions were never discouraged or punished. My dad had an older brother who had no children. This brother was especially intolerant of children voicing opinions at the dinner table.
Although they say that people get more conservative as they get older, my dad got more liberal. Whether it was political opinions or moving across the country at the age of 75, my dad kept evolving.
This is where I say I am not a sociologist or a psychologist. I don't know why people do what they do. I just observe what they do. As host of Forum 360 I have the opportunity to find out why people make choices that I admire, but I know I would never make for myself.
On Forum 360 we did a show on The Lone Soldier. This term refers to young men and women, about 18-22 years old, who leave their homes in America or elsewhere around the world, to serve in The Israeli Defense Force. When I was 18-22 I know I would not have left my comfortable and safe home and life in Akron Oh to help in another country. I have met many who have. We did a show with Drs. Plate and Baldie about medical personnel who go on medical missions to Third World countries rather than beach vacations. These people have a different genetic makeup!
The Facebook posting said: "Be real people, fireworks are loud." I chuckled when I read it because the posting told me that I wasn't the only one that thinks fireworks are noisy. The bigger message was a good reminder that there are few things that are all good or all bad. Most things in life are both.
Lesson Learned:
I think fireworks are beautiful. Especially the ones that end with those little fishies swimming into oblivion. I never liked the noise of them and that never changed. Silent fireworks would be my preference. The loudness reminds me that no matter how thin you make that crepe, it still has two sides. Nothing is all good or all bad. If we want the beauty of the Fourth of July, we have to endure the noise. Can you find the other side to something you think is all good or all bad?
2.

Are You Preaching to the Right Audience
I am taking a class this summer in Presidential Politics. We Skyped with a 35 year NPR veteran. He covered Dukakis, Carter, Gore, and Hillary in 2008 to name a few. He said that one mistake first time candidates make is in regards to the audience in their rally and events. They look out at the people in attendance and think that is their "audience," the voters.
Lesson Learned: The people who go to the time and effort to attend a candidate's rally are not the typical voter. So the candidate looks out and sees a wave of adoring fans and thinks he or she is more popular and more electable than they will be in the general election. November's voters are not the same make up as a rally. In communication we say that you have multiple audiences, but you have to prioritize them. Do you know who your main audience is? *FYI Look for Kasich the candidate in 2020.
3.

Maria Sugarpova at Harvard
Tennis star Maria Sharapova has made more money in endorsements than winning tennistournaments. Sugarpova is a brand of candy she created as a niche in the extensive gummy market. So part of her resume includes businesswoman. That she has chosen to attend Harvard during her 2 year drug suspension is not as surprising upon second glance as it is at first glance. Harvard even has a certificate for professional athletes to help them evaluate business opportunities and manage their branding.
Lesson Learned:
In March 2016 Maria Sharapova failed a drug test and was banned from the tennis world for two years by the International Tennis Federation. In early June she announced on Social Media (of course) that she was going to attend Harvard. We don't know what classes or for what degree but that is not really the point. While her humiliation is very public, she still chose to do something constructive during this suspension. When you run into an obstacle or a disappointment, can you do something constructive?
4. We Need to Learn How To Lose Again
Do you remember the trophies, ribbons, and plaques given out at the end of every season and in every sport? Every member of the team received an award because adults didn't want children to feel badly for losing. When we got a bad grade our parents went to the teacher to complain. Surely it couldn't have been the fault of the darling son or daughter. Catherine Rampell, The Washington Post, claims that we don't need to learn how to win, we need to learn how to lose.
Lesson Learned:
Everyone at some point in their life gets something wrong and loses: loses a bet, an election, or a vote. No one likes to lose. The lesson in losing is to pick yourself up and go on. Not today. Everywhere we look we hear and see whining, litigation and lashing out. What if we could lose in the style of Bush 41? He left a letter for his successor that said in part, "I am rooting hard for you." What would you say to your successor?
5.

What do Good Communication and Movies Have in Common?
All
movies are not created equal. I think the biggest difference between independent movies and big studio movies is length of playing time. Independent movies often don't know when to end. It's the same thing with presentations and toasts. The really good ones sacrifice material and they end. The less good ones cram more material into the format and never seem to end.
Lesson Learned:
If someone asked me to answer while standing on one foot, what makes for a good presentation, I would answer in one word: sacrifice. Writing is about sacrificing material for the greater good. Recently I sat through an independent movie, Hunt for the Wilderpeople. Ten or fifteen minutes too long, I prayed for it to be OVER. You don't want people to be praying for your presentation to be over. Do you?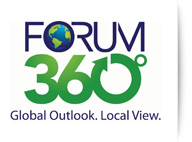 Leslie in Person
October 13 - MISHRM, 7 Absurdly Simple Ways to Communicate Your Value
November 21 - WIN, Develop the Diva Within: Weapons that Empower Women to Speak and Lead
Forum 360 with Leslie as Moderator
Upcoming Shows:

Week of July 24. Medical Aid for the Needy: Medical Mission to Peru. Guests Drs. Deb Plate and Kevin Baldie.
Date to be announced. Trotwood at Summit County Domestic Court. Guests are Trotwood the Goldendoodle and Magistrates Ron Cable and Lauren Foley

Watch/ Listen to Forum 360:
Western Reserve Public Media, PBS-TV, PBS Fusion Channels 45 & 49 (Time Warner channel 993) - Mondays at 8 pm and Saturdays at 5:00 pm. After the show airs, you can download it
here
.
WONE FM 97.5 Sunday 6 am

WAKR AM 1590 Sunday, 5:00 pm, Monday 12:30 am For online streaming go to
http://akronnewsnow.com/
and click Listen Live.
As a client pointed out, Benji was put in my life to teach me something. What he is to teach me, I am not sure. But I am sure he was put into my life to teach me something (s).
I started his training before he was 3 months old. It was important that he learned basic commands such as SIT. He did learn the basics. Then at about six months his level of learning dropped.
I would say SIT and he would look at me as though I was an alien or I was speaking alien tongues. He would just look at me and cock his head. But he didn't move. Same thing with COME. Apparently COME meant when he felt like it.
Dogs don't develop at the one dog year to seven human year formula. A year old dog is like a 13 year old. So if my math is correct a six month old puppy is like a 7 or 8 year old. Sometimes they listen and sometimes you are speaking tongues. Sometimes they are brilliant and other times it is as though they know nothing. Perhaps patience and understanding is on that list of life lessons.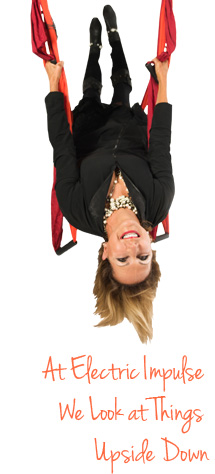 August 5 from 8:30am - 5pm
Join us in the pasture for a day like none other you will experience! Learn from our four-legged mirrors how to lead a group, a team, or a company. A horse won't follow you if you don't know where you're going!
Saturday, August 6 from 12:30pm - 5pm
Email us at
Leslie@electricimpulse.com
for further information or to RSVP to one of our events. For more information visit our website:

Ask me about my 10 in 10!