| | |
| --- | --- |
| | September 2016 Newsletter |


My dad was a letter writer. I have chronicled his letters to the editors, to congressmen, (they were only men at the time), to senators, and I imagine a president or two.
So I suppose I inherit to some degree the desire to document with pen and a stamp.
I often walk Benji on my undedicated street, Kumho Dr. Kumho is named after the tire company that is located at the end of the street.
Trying to wear out Benji is a daily challenge. There are only about 8-10 cars that are ever parked in front of Kumho Tire. We walk from my building to the end of the street which dead-ends just past Kumho the company.
There are only three buildings on my street. Mine, Continental across from me, and Kumho Tire at the end of the street. Every day, employees from

Continental

which used to be Veyance, cross Kumho and walk around the parking lot of my building.
A couple of weeks ago I was walking Benji. We had passed the building of Kumho Tire and were on our way back. I noticed a scruffy tall gentleman standing at the front of his building. As I got closer to him as I walked, he informed me that I was not welcome to walk on the street in front of this company.
Not a neighborly attitude. I wouldn't think of telling the

Continental

walkers, that they were not welcome in our parking lot. Long story shorter, I wrote a letter. My dad would have written a letter. Online all I could find was a CEO in China. I hardly think he will be interested in the lack of hospitality on my street.
I addressed the letter to, "the highest ranking person at the Kumho Dr. location." So far no answer.

The first presidential debate between Hillary Clinton and Donald Trump is shaping up to be perhaps the most watched TV show in history. Not just the most watched debate, the most watched television show ever. Remember when the world tuned into see who shot J.R. or to see the MASH finale? This could out do all of them.
September 26 is the date and Lester Holt is the host, selected by the non-partisan committee that puts these debates together. There will be three presidential debates and one vice presidential debate.
Channel 19 has asked me to be a guest the day of the debate to tell viewers what to look for in the debate. Then, to come back the next day to comment on what happen at the debate from a communication perspective.
In college I studied the Nixon-Kennedy debate, the first televised presidential debate in history. Televised debates have become commonplace since then. Little could I have known as an undergrad that I would be commenting on a debate years later. Can't wait. Watch live or we will link on my Facebook page. Find me on Facebook and share with me any of your thoughts or predictions before the debate.

Recently while in New York City, I went to see the exhibit at
the Metropolitan Museum of Art
called
Manus x Machina: Fashion in an Age of Technology
. The exhibit highlights the intersection of what is hand-made and what is machine made in the world of couture fashion.
1.

The Importance of a Good Foundation
Whether the end goal is a master speech or a masterpiece, it all begins with the foundation. The most exquisite dress needs a strong foundation. At its core, the I Have a Dream Speech or JFK's Inaugural Address have a strong foundation. On exhibit were mannequins that featured the foundation, how a designer put their idea on a mannequin in muslin, long before expensive fabric was used.
Lesson Learned: The mannequin stripped down to its muslin core enables the designer to see the "bones" of his/her design. Just as the outline of a speech enables the writer to see the "bones" of a speech. Course and colorless, muslin is not very attractive. It has a job to do in the process of building a designer dress. Do your speeches have a good foundation?
2.

Here Comes the Bride
As people stood around this wedding dress, they either quietly tee-hee'ed or outwardly laughed at both the concept and the end product of this wedding dress. Obviously, it does not look like any wedding dress we have ever seen or imagined. There is a similarity between this dress and your last or very next speech, a candidate's acceptance or a eulogy delivered much too soon. The Gettysburg Address was less than four minutes long and is one of the most famous speeches. It's like this wedding dress of speeches

.
Lesson Learned: An itsy bitsy dress does not leave much to the imagination. That is one thing we like about winter: we can cover up a few pounds in winter coats and sweaters. A short sleeveless dress does not cover up anything. You see what you have to work with, so to speak. Think about a Hollywood starlet on the red carpet. One thing we admire is the small amount of material. A long sleeved dress up to the neck on one end and the floor on the other doesn't let us see. Is your too long presentation hiding anything?
3. Hats Off to Coffee Accoutrements
We walk past the coffee bar's accoutrements every day. We walk past the straws and the creamers, the bags of sugar and Splenda. Whether or not we ever use them, we take then for granted in our everyday life. And then a talented designer makes a dress out of simple black straws

.
Lesson Learned:
Whether or not you would ever wear this dress, you have to admit it is pretty smashing. It's not always about the rare find or the ingredient that is amazingly thin or amazingly thick. Sometimes it is what we do with it. Airbnb has become the biggest renter of rooms and it does not own one room. Uber rivals all car services and it doesn't own a car

.

Whatever your profession or industry, what ordinary product, idea or service that you take for granted can you make into something extraordinary?
4. Rock-Paper-Scissors-Dress!
Rock-Paper-Scissors is a zero-sum child's game. It could be played anytime and by anyone and required more luck than skill. Some theorize that the more familiar one is with random versus non-random acts, the better one can project which symbol the opponent will use.
In this game, paper has the most value, because paper covers rock

.
Lesson Learned:
I think of this children's game when I look at this dress. Whether it is paper or material, muslin or silk, one has to have a very creative mind to create this designer piece.
It is as if it is made of paper . . . and someone thought of a very different way to fold paper than simply playing rock-paper-scissors. It challenges us to ask ourselves,
what known quantity can we use differently?
Jerry Seinfeld once said, he could spend an hour editing an 8 word sentence to 5 words, but it would be a much better sentence. Charles James says in this quote on display at this exhibit, that he could spend 12 hours on one seam. To me there was so much similarity between the two experts in their very different fields. Whether it is comedy or couture, the process is painstaking. From the outside many don't realize it. Most want to just walk up to a podium and be brilliant. The hard work on the "seams" of a speech or dress, are often invisible to the public's eye
.
Lesson Learned:
Haven't you looked at a designer dress in a magazine or in a store and asked, how can it be so expensive? We don't look at or think about every seam, literally or figuratively. A common thread with C-level people I work with is their surprise at how hard it is to develop and give one speech, and give it well. While the Art is in Hiding the Art, we can't hide it so much that our work becomes invisible

. Do you identify and communicate your "seams?"

Leslie in Person

October 13 - MISHRM, 7 Absurdly Simple Ways to Communicate
Your Value
October 17 -
WIN, Develop the Diva Within: Weapons that Empower Women to Speak and Lead
October 26
-
Sixth
District Compact Student Ambassador Program
Forum 360 with Leslie as Moderator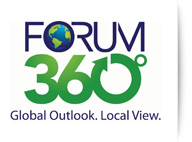 Upcoming Shows:

Title:
Kardiac Kids with guest
Browns Kicker Don Cockroft
Title:
Election 2016 with guest Dr. David Cohen, Bliss Institute
Watch/ Listen to Forum 360:
Western Reserve Public Media, PBS-TV, PBS Fusion Channels 45 & 49 (Time Warner channel 993) - Mondays at 8 pm and Saturdays at 5:00 pm. After the show airs, you can download it
here
.
WONE FM 97.5 Sunday 6 am

WAKR AM 1590 Sunday, 5:00 pm, Monday 12:30 am For online streaming go to
http://akronnewsnow.com/
and click Listen Live.
My theme this year has been, At Electric Impulse We Look at Things Upside Down. How fitting is it that Benji appears to need to be trained in a way that is upside down from everything I ever learned as a dog whisperer?

I first took GIGI, our family dog, to obedience school when I was five years old. I apparently insisted that the dog needed to go across town, to the then only obedience school in Akron.

Now I have to take everything I ever learned and turn it upside down. Offering a treat to COME, is apparently a lure and is not legal!

When I say SIT, I have to lower my bar and reward anything close rather than wait for the correct behavior. AHHHH!!!!

At six months old, Benji got to decide that he did not have to be crated at night or be strapped in during car rides

. What do you think you know that you may have to turn upside down???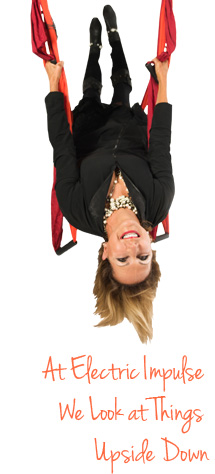 Tuesday, September 20 from 7:30am - 9:30am
Join us at our final video breakfast of 2016. See how much you can improve in one session!
Friday, September 30 from 8:30am - 5pm
Spend a day in the pasture like none other you will experience! Learn from our four-legged mirrors how to lead a group, a team, or a company. A horse won't follow you if you don't know where you're going!
Tuesday, October 25 from 12pm - 5:00pm
Join us at our frightfully, scary boot camp where we will review the Foundation of Communication, the Rules; the Tips that professionals usually do not share with "amateur" speakers, and you will "DO" not just listen.
Email us at
Leslie@electricimpulse.com
for further information or to RSVP to one of our events. For more information visit our website:

Ask me about my 10 in 10!