| | |
| --- | --- |
| | October 2016 Newsletter |


I
wondered one day what my Dad would think about this year's Presidential Election. Besides the Final Two left standing, it was a year of firsts and a year of exceptions. So many candidates with no experience in public policy and/or experience on a national level. So I thought about it and searched for cues in his advice and perspectives as I was growing up. And really-as long as the parent is living, are we ever really grown up?
So I made a mental tour of Herbie's Hints all along the way from early early childhood to later years. And the one thing that was constant, whether the challenge was in the classroom or in the horseshow ring, you had to put the time in.
The rewards, at least in our family-maybe your family was more gifted-would go to those who had worked harder, sweated more, and learned every little nuance along the way. The A in the classroom or the horse show blue ribbon were to be EARNED.
When I started showing horses I showed on what was the "C" circuit. You don't have to be a horse person to figure out the hierarchy. Very quickly my Dad moved me to the "A" circuit. NOT because I was that good, for another reason. He quickly saw that although both were horse shows, getting better at "C" would not necessarily make me better at "A". The only thing that would make me better at "A" was competing in "A", learning the ropes, understanding the process, people and the systems that although both levels were horse shows, were different.
As I wonder what he would have thought and for whom he would have cast his vote, I think back to winters carrying water from the house when the pump in the barn froze and sweating cleaning stalls in the summer. He would have thought that if you want to be president, you have to do the hard work along the way.

Everyone has had an opinion on this 2016 race. If pollsters could figure out how to poll our family pets, I think we would see polling on who Golden Doodles
want to see in the White House. By the way, I wonder if they prefer a president with a family dog or not.
I was asked to comment on what to look for in the first debate, on the day of the debate. The following morning I commented on the debate itself.
This debate garnered even more media space and likely space in our heads and in our lives than Who Shot JR? or the final MASH episode.
A client once said to me, "Leslie, you can separate the communication from the person's politics, but I can't." Some of you may think I can't either!
This election is too important and this first debate simply too much fun, to ignore for the sake of political correctness. With the intent to prepare and comment from a communication perspective, here is a link to my post-debate interview.

1.

Are Your Offers Good Faith or Bad Faith?
I applied for the United Air Line credit card for one reason: to get one free piece of baggage on every flight. Yes some other airline(s) offers free baggage, but they are not always going in the direction I need to travel. The requirement is that you charge the air travel on this card. So far, my two trips have not been user friendly

.
Lesson Learned:
The first time I tried to have my bag travel for free I was told I didn't need to have the credit card with me but I did need to have my frequent flyer number with me. The second time I had my frequent flyer number with me but not the card. I was told by the United personnel that my bag could not go for free if I did not have the card with me. Why offer something if you are going to make it so difficult for the offer to be redeemed? I put this in the category of bad faith offers: offers that companies make to look good, but make difficult
to implement
.
Are your offers user friendly, good faith or bad faith?
2.

How Many Strikes Do You Get?
Contrary to the rest of the world, my first experience with Airbnb was not good. The night before I was to leave, the host called me and said I couldn't stay there. I was actually flying on Christmas Day, try finding a room in any warm climate on Christmas Day. Then he was supposed to meet me to refund my money, then he didn't, it was not a great experience. But on my way to the airport to come back home, Airbnb called me. They knew nothing about my bad experience and I did not know enough to have called them in the first place. I then made them aware of my experience; they credited my Airbnb account for a future stay.
Lesson Learned:
In returning to the land of the cacti, to see my mom, I wanted to both use my credit and have a good experience with Airbnb. This time I had a great experience: great host, great host dog, great venue, and great neighborhood. I probably would not have given Airbnb another try if I hadn't been called by them and if they hadn't extended the credit. Dollar for dollar for one person's stay, Airbnb is not cheaper than a hotel it's just a different kind of experience

. Have you expressed interest in the experience an unhappy client, customer, guest or patient?
3.

The Unfriendliest Company in America
I guess I am just lucky to have my office on the same street as the unfriendliest company in America, Kumho Tire. I wrote last month about the ambush in front of their company when I was TOLD to not walk my ferocious 20 pound dog in front of their building. Although I think it is unfriendly and unnecessary, I thought I honored their request in the following weeks. Apparently I did not. A few weeks later, about a tenth of a mile from Kumho Tire a very erratic-fast talking-barely understandable-frantically gesturing-man accosted me

.
Lesson Learned:
Without identifying himself or his company he started yelling at me. I could not figure out what was going on. Apparently, although I stayed about a tenth of a mile away from the building, I got too close for his liking. I tried to say that although I thought it was rude, I had tried to honor their request. He told me I could not come closer than two tenths of a mile to the building. I tried to talk to him. Then I realized it was futile. I turned and walked back to my office building, where we actually allow walkers to walk in our parking lot.



I was getting gas when a woman came up to me and said she did not have money for gas to get back to Youngstown. There are a hundred reasons we should not leave without a wallet, cash, a credit card, enough gas, whatever. Sometimes it helps to put something good out into the world rather than negativity

.

Can you do something to not be the unfriendliest company in America?
4. The World Can Be Divided Into Two Groups
Forget religion, politics, finances, or educational differences. I think the world can be divided into two groups. One group waits for an opportunity and then hurries and prepares for it. The other group prepares constantly for opportunities unknown. Some of my clients want to improve in areas of communication just because they think it is important. Others want to improve for a specific event or by a specific date. For about the last 9 months I have been asked to be a guest on Channel 19's early morning show

.
Lesson Learned:
It has taken me many trips to figure out the correct place to park, how to get to the second level of the parking deck (not as easy as it seems), which elevator to take, how to get out of the parking lot when the machine refuses to read your guest pass, and so on. Along the way I have collected a $25 parking ticket and a lot of stress and frustration, knowing that live TV will not wait for me. The 4pm TV show asked me to be a guest to comment on the body language of the candidate's at the debate. There were no instructions where to park, what floor the studio was located, door to use, who would interview me, or even what the topic was to be. Having the experience for months prior, I was totally ready

.

What can you prepare yourself for?
5.

Who Are You Supposed to Be
Especially during this campaign season we have heard a lot about candidate's finding their voice. On one hand maybe we should know who we are by the time we are "mature". On the other hand, aren't we always evolving? I found these words of Norah Jones especially timely, from Flipside, "I finally know who I'm supposed to be, My mind was locked but I found the key, Hope it don't all slip away from me."
Lesson Learned:
In Dancing with Wolves, Kicking Bird the Medicine Man said,

"I was just thinking that of all the trails in this life, there are some that matter most. It is the trail of a true human being. I think you are on this trail, and it is good to see." Perhaps both quotes speak to the on-going journey not the destination

. Are you on your own journey to unlock your Inner Brilliance?

Leslie in Person

October 17
- WIN, Develop the Diva Within: Weapons that Empower Women to Speak and Lead
October 26
- Sixth District Compact
Student Ambassador Program
November 7 - Hudson Job Search
Forum 360 with Leslie as Moderator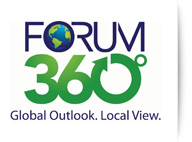 Upcoming Shows:

Guest:
Don Cockroft, Iconic Kick
Title:
The Presidential Race
Guest:
Professor David Cohen, the Bliss Institute - The University of Akron
Watch/ Listen to Forum 360:
Western Reserve Public Media, PBS-TV, PBS Fusion Channels 45 & 49 (Time Warner channel 993) - Mondays at 8 pm and Saturdays at 5:00 pm. After the show airs, you can download it
here
.
WONE FM 97.5 Sunday 6 am

WAKR AM 1590 Sunday, 5:00 pm, Monday 12:30 am For online streaming go to
http://akronnewsnow.com/
and click Listen Live.
Moshe
got the really tough duty of watching Benji while I went to see my mom. This is tough duty. It's like watching a toddler 24/7 when you can't even put him in his crib for a much needed time out.
We have managed, I can't say solved, all of Benji's challenging habits except for one. THE ANNOYING BARK. It can happen at any time. Anytime Benji decides he wants something or someone's attention. A challenge that this behavior has spawned is finding "enrichment" toys that keep his interest for longer than a minute.
Moshe's way of dealing with the annoying bark was to give him food. In the big picture that teaches him to bark for food. An unintended lesson but a lesson nonetheless.
When I had my blonde cocker spaniel Missy, I accidentally taught her the same thing. When I had her at the office, if she barked at something, I would run to her cookie jar to divert her attention with a cookie. What I actually taught her was to bark for a treat.
What are you accidentally teaching a team member, client, or anyone in your life?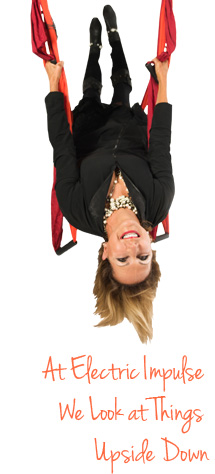 Tuesday, October 25 from 12pm - 5pm
Boot Camp - Speak Like a Pro: Put Together and Deliver a Stellar Speech to Unleash Your Inner Rock Star
We will review the Foundation of Communication, the Rules; the Tips that professionals usually do not share with "amateur" speakers, and you will "DO" not just listen. Speaking is the least expensive and fastest way to surpass your competitors and to stand out in your field as the go-to person. You will go from Speaking 101 to your Speaking Ph.D.
Thursday, December 8 from 11:30am - 1:30pm
Join us at our final video session of 2016. See how much you can improve in one session!
Email us at
Leslie@electricimpulse.com
for further information or to RSVP to one of our events. For more information visit our website:

Ask me about my 10 in 10!