| | |
| --- | --- |
| | November 2016 Newsletter |


Winter l

ooms around the corner even if today as I write this newsletter the weather is in the 70's. Sunny and 70's.

We know the snow and cold is coming. Every year, in our little 4-stall barn, at some point during the Winter, the water would freeze. No matter what my dad would do to prevent the pump or the buried line from freezing, somewhere from the house to the barn it would freeze. And to make it even worse, it would not thaw out until late into Spring.

Sometimes I would carry the water from the house to the barn, a filled bucket in each hand. Sometimes I would put the filled buckets into the car and drive them over. This was long before SUV's and Jeeps so even this option was not so easy. And then you had to drive on the icy path from the house to the barn before all-wheel drive.

Each summer my dad would be pro-active and go on the offensive to fix the problem of the frozen water. Each summer he would fix something different. Always to no avail. Sometimes it would be later in the Winter when the water froze. It always froze. As I look upon the problem now, it looks different than it did as I was carrying heavy buckets of water. I focused on having to carry those buckets. If I step back and look at the challenge, my dad was probably doomed for failure. He could not find out the problem. So every solution he tried was a guess, like pinning the tail on the donkey while blindfolded. Without digging up every inch of the buried water line, he could not know where the problem was: in which foot of the pipeline between the house and the barn? Or was the problem in the pump?

If you don't know what the problem is, it's just a lucky guess to solve it. We carried water for about 30 years. How long do you want to struggle with your challenge?

I was fortunate to be asked to provide "expert" commentary after each candidate's acceptance speech and after the first and third debate. Some days, I was asked to comment at 6:15 am and be in studio at 4pm. And I always said yes.
When I was a little girl Johnny Carson was very popular. Of course, we didn't have 103 late night shows then either. He often would work Las Vegas on week-ends and the Tonight Show during the week. I would ask my dad why he worked so much. My dad would say, "when you're hot, you're hot". What he meant was that Johnny would work week-ends when he was hot, because he may not always be in demand.
That's what I would think of when I said yes to my second trip to Cleveland in the same day. Or my second interview the same day. They want you today; they may not remember who you are tomorrow. So say YES when they want you.

To many people it is a challenge to answer the question, what do you do? Call it an elevator speech, call it anything, it's still a challenge. Some people do better at it and some worse at it and for most it is always a work in progress. The other day I heard the worst answer ever to this question. "I work in a body shop." "Oh, you work in a garage?" Another person said, "You paint cars?" The man who said he works in a body shop then said, "I'm a cardiologist, I work in a hospital." That is the worst answer ever.
Lesson Learned: The answer to the "what do you do" question has to fulfill one of two options. One, it needs to talk about your value so that if the listener never hears another word from you, they know your value. Two, if the listener wants to follow up, they have learned something of value so they can ask something of value. When the man said he works in a body shop, neither option happened. Are you offering value in your answer?
Chicago Cubs Manager, Joe Maddon, became a folk hero when he came to manage the much maligned Cubs. Famous for his one-liners they started appearing on T-shirts and billboards. Some of his more famous advice packaged in few words: try not to suck, the concept of being late is overblown, you can't really be late for anything, do simple better, Respect 90, there are no dress codes, and don't let the pressure exceed the pleasure. They became known as Maddon-isms and have taken on a life of their own. Some sayings I find entertaining and some I find kind of annoying.
Lesson Learned: The saying I like best is Respect 90. He believes if you respect the 90 feet from one base to another, everything else will fall into place. There is a FAT and a SKINNY way to look at Respect 90. The SKINNY is to respect the base, perhaps the steal, perhaps the baseman. In the FAT, the bigger picture, to respect your body, your curfew, to respect your coaches, other players, the refs, the fans, and so on. In a recent NFL game a fan yelled something to a player leaving the field. The player yelled back, "get a job." Is that respect? Going very fast in a speedboat perhaps with drugs on a day off of a major league career, is that respect for any feet in the game. What would your respect sound like?
3.

Thin Mints in My Cereal
Any girl who ever sold Girl Scout cookies knows that Thin Mints was one of the popular sellers. How people eat them we can't be sure. It's a good guess that milk has always been involved. So it should come as no surprise that General Mills is making a cereal out of the popular Girl Scout cookie Thin Mints. Now you can be perfectly justified in eating cookies for breakfast.
Lesson Learned:
If you have ever sold or bought Girl Scout cookies then you know they are only sold for 6 - 8 weeks a year. If you keep an eye on the stock market, you may know General Mills has been struggling as of late. So Thin Mints kind of married General Mills. A portion of the year round sales are supposed to benefit Girl Scouts. The brand association for General Mills may help their sales. The cereals will come out in January so we don't know the success. What we do know is that the lesson learned is: how can you partner differently in the future than you have in the past?
Perhaps there should be a license in order to operate a business. We have to pass a test to drive a car, but anyone can hang out a shingle and open a business. I have been frustrated recently. A company exists to sell a product or service and then they make it so hard to purchase the product or service. One company had an on-line offer for first time customers. Except that there was no option at check-out to use the offer. Another opened a new facility but only offered usage when it was at capacity. As a new facility it was not close to capacity

.
Lesson Learned:
Have you tried to buy from you? Can you look at your message, your product or your service from your client's perspective? Recently I advised a speaker to look at their message from their audience's perspective. The speaker said, "Leslie I can't, I'm a CPA. I look at everything linear. Your license to operate a business needs to include ease of doing business. How easy do you make it for your clients, customers, guests, patients and members?
5.

The Day Bacon Became a Vegetable
As a vegetarian, a steakhouse is probably not my favorite place in the world. But I can find a vegetable just about anywhere. Or I thought I could. On a recent trip to Fleming's I thought I was handling the excursion to cholesterol heaven just fine. I ordered Brussel sprouts for my entrée.
Lesson Learned:
As I'm eating my Brussel sprouts, an odd sensation comes over me. I flag down the used-to-be-nice waitress to inquire about this strange sensation. While I have not eaten bacon for ten years, this taste I am experiencing tastes a lot like I remember the taste of bacon. But surely I must be mistaken; this is Brussel sprouts after all. The waitress informs me that it is a steakhouse so of course there is bacon in the Brussel sprouts. Even though there is no mention on the menu. This became the day bacon became a vegetable. What are you not telling your market?

Forum 360 with Leslie as Moderator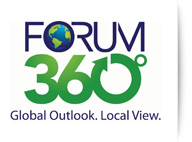 Upcoming Shows:

Title:
The New Rabbi in Town
Guest: Rabbi Josh Brown
Title: New CEO's in NE Ohio
Guest:
Sadie Winlock, Akron Urban League and Lori Howerton, Akron HBA
Watch/ Listen to Forum 360:
Western Reserve Public Media, PBS-TV, PBS Fusion Channels 45 & 49 (Time Warner channel 993) - Mondays at 8 pm and Saturdays at 5:00 pm. After the show airs, you can download it
here
.
WONE FM 97.5 Sunday 6 am

WAKR AM 1590 Sunday, 5:00 pm, Monday 12:30 am For online streaming go to
http://akronnewsnow.com/
and click Listen Live.
At HorseTalk we talk about rewards. Not all rewards are considered a reward to the audience. Not all horses like carrots or apples or sugar. Our job in a company or even as a friend or daughter is to identify what is a reward or a gift to the recipient not the giver.
In the longest house-breaking process ever, I have needed to apply the same lesson. Not all treats are created equal to Benji. If it needs to be a reward, then it needs to be a reward from his perspective not mine. Let's just say that any treat of the dry variety is not considered worth doing anything for in the world of Benji.
Are your rewards audience driven?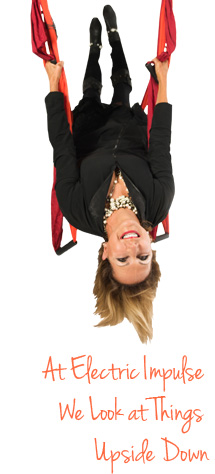 Thursday, December 8 from 11:30am - 1:30pm
Join us at our final video session of 2016. See how much you can improve in one session!
We are in the midst of planning our events for 2017. We want to hear from you! Send us your suggestions on topics, your favorite types of events, or anything else you'd like us to consider as we plan for 2017!

Email us at
Leslie@electricimpulse.com
for further information or to RSVP to one of our events. For more information visit our website:

Ask me about my 10 in 10!