Electric Impulse Communications, Inc. Newsletter
June 2012
A monthly newsletter to transform ordinary leaders to extraordinary: in your company, profession, and industry. Based on coaching, writing, speaking and strategizing by Leslie G.Ungar to create leaders, improve communications, and build successful teams. www.electricimpulse.com
This newsletter includes: The Power of Perspectives
Please feel free to pass this newsletter to a friend or visit our website and we will add you to our complimentary mailing list. Past copies are available at: http://www.electricimpulse.com
I. Herbie's Helpful Hint (named after my Dad)
When I showed horses each horse show had 1-3 judges per class. The judges were announced on the schedule months in advance. Sometimes you could select a horse show for the judge. Other times you needed to show at a particular show regardless of the judge. As an exhibitor, you kept track of different characteristics of a judge once you had shown under him/her. You tried to catalogue what they liked and didn't like in a horse.
Lesson Learned:
My Dad's favorite judge was Peter Cameron. He was the only judge that told exhibitors exactly what they could improve or what they did poorly. He was also the only judge to ever be twice selected as Judge of the Year. I think there is a connection. He told amateurs and professionals, he told riders whether or not they wanted to hear, what he had to say. Is your favorite resource someone who will tell you what you don't want to hear?
II. New ASK LESLIE
Each month we feature a new ASK LESLIE: a short video that will help you be more effective. This month's featured segment answers in 2:00 the ASK LESLIE question, do you have to memorize your speech? Isn't it amazing that today anyone can have his or her own TV channel.
III. Mishmash of Value:
1. Why David Gregory Came to Ohio
A couple of weeks ago the Meet the Press host came to Cleveland to host a panel. Why? Why did he get on a plane, leave D.C. for a day to host, not even keynote, an event in this swing state? He introduced the panel and concluded the panel. In those remarks, he artfully mentioned Meet the Press over and over again. After he mentioned Meet the Press the 5th or 15th time, I realized why he came to moderate this event.
Lesson Learned:
He was "selling" Meet the Press". Although it is the #1 Sunday morning show, viewers have to keep watching it in order for it to stay #1. Everyone is selling something: an idea, a product, an idea, or a service. The smart ones know they are selling. Gregory knows he is selling two things, to two audiences: #1- TV viewers to watch his show over his competitors. #2- his relevance to viewers. Going to this swing state and being able to talk about it on the show, adds to his value. Have you come to terms with the fact that everyone is selling something?
2. ASUS & the CEO who is MIA
I would never buy another ASUS nor would I refer ASUS to anyone looking for a new computer. This past winter I had two laptops die within a couple of weeks. I replaced the first one with an ASUS. Six weeks after the purchase, I had to send it in for a repair that I could not have caused. Yes, they paid for the repair. I had to pay the $60 to send it in.
Lesson Learned:
I inquired from customer service why they did not issue a pre-pay pick-up when they issued the information I needed to include in the return. I asked to speak to a "superior". The customer service person said they did not have a superior. I asked, "Do you sign your own checks? If you don't then you have a superior". I did not receive a satisfactory answer. So I asked, "Who is the CEO?" The answer I received was truly priceless, "some guy in Singapore". Is your customer service better than that?
3. MasterCard's Strange Solution
I review my Master Card bill every month and I pay it off every month. Last month I noticed a $1.50 charge for interest. Except that there should be no interest because, you know, I pay if off every month. So I called the number for customer service to get the problem straightened out. The solution amazed me. Their own customer service person said that the only solution was to not use the card until the end of the billing cycle in three weeks. That's right. The only solution they could offer was to not use the product that made them money.
Lesson Learned:
When I called back three weeks later to make sure that the problem was solved, the supervisor I requested told me that MC makes money on every swipe, whether or not the customer pays interest. So this "well trained" person's only solution to this problem cost her own company money and me a slight inconvenience. Are you or your people really looking at multiple ways to solve customer problems?
4. Pink Floyd and Character Building
Rogers Waters was a founder and co-lead vocalist of Pink Floyd. After he left Pink Floyd he performed in front of 1500 in a 4000 stadium and the next day Pink Floyd, the group he had left, performed in front of 70,000 in the same city. He said it was character building. He then put together the show The Wall-Live in Berlin. The official count of those in attendance stopped at 250,000.
Lesson Learned:
It was five years from the time he left Pink Floyd and was performing to 1500 until he created the largest and most elaborate rock show in history, The Wall. He said it was character building. We might call it humiliating, frustrating, hard, and hopeless. Can you stay the course? You know that saying, what would you attempt if you knew you could not fail? Well, what would you?
5. Swagger Rules
Les Miles is a graduate of Elyria H.S. in Ohio and current LSU college football coach. On a recent return to his 40th high school reunion, he volunteered to say a few words at commencement. He said, "Operate with swagger. Swagger means style." Is it any wonder that players from all over the country want to play for him?
Lesson Learned:
Think about all of the "go for your dream" speeches that are given at commencements. All speeches, even commencements, have to pass the 3 W test. The first W is why YOU. If you can't make the speech yours, then you should not be speaking. That line lit up the blogosphere and made it to Jim Rome in 48 hours. Can you walk the line of being your authentic you and still deliver a message with value?
IV. On TV and Live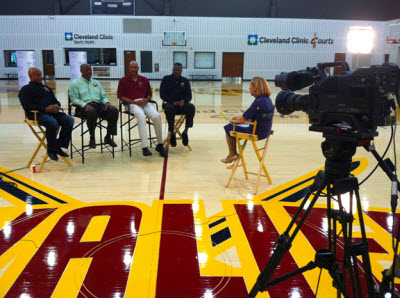 Leslie interviews four Cavaliers Legends
Live: Come and Join Us
June 26 Women's Journal, Communicate With Confidence
July 10 Fedeli Group Sales Presentation, Identify Your Competitive Edge
September 14 Canton Chamber Fast Break Breakfast, Next Generation Leadership
September 19 Tallmadge Chamber of Commerce, Opportunities Have a Shelf Life
October 17 Jackson Belden Chamber, 100 Tips in 100 Days
TV--Forum 360 with Leslie as host on Time/Warner
Upcoming Shows:

Business Landscape in NE Ohio
Guest: Scott Forster, COO Magnus International
Life Long Learners
Guests: Dr. Mike Sherman, Provost, The University of Akron, Dr. Marvin Cohen, Summa Dental Program
***Channel 23:
Mondays at 12:30pm, Tuesdays at 10:30am and 3:30pm, Wednesdays at 2:30pm/ 7:30pm Thursdays at 10:30am, Fridays at 2:30pm, Saturdays at 4:00pm
Radio: WONE FM 97.5 Sunday 6 am, WAKR AM 1590 Sunday, 8:30 am
Past shows can be seen on Local on Demand
V. The Natcha Journals
My Miss Natcha Vallarta was one of only two dogs in our class to pass the good citizen dog test. So then we started another course called Rally. At the first class, the new instructor made an observation. He said while Natcha was doing everything she was supposed to do, she was not paying any attention to me. Stab me straight in the heart. To me there is little that could be said that could be a worse statement of my dog's relationship with me. Aren't our team members supposed to be paying attention to us?
VI. Come and Be A Part of our Community
We are always doing something you can participate in for an hour or a day, in person or by phone. We will even make you a video star at our video sessions.
July 18, Video and You at 5pm
August 14, Teleseminar How to Seal the Deal
September 13, Master Class, So What Do You Do? 12:30-5pm
"The Electric Impulse" Blog
If you wonder what I think about current events, click here.