Electric Impulse Communications, Inc. Newsletter
March 2010
A monthly newsletter to transform ordinary leaders to extraordinary: in your company, profession, and industry. Based on coaching, writing, speaking and strategizing by Leslie G.Ungar to create leaders, improve communications, and build successful teams. www.electricimpulse.com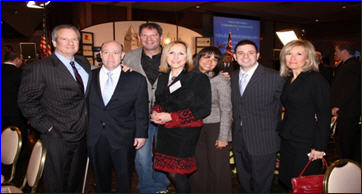 This newsletter includes: The Power of Perspectives
Please feel free to pass this newsletter to a friend or visit our website and we will add you to our complimentary mailing list. Past copies are available at: http://www.electricimpulse.com
I. Herbie's Helpful Hint (named after my Dad)
My undergrad and graduate degrees were both in Communication and Rhetoric. Thirty years after I first declared my major, my Dad would still say, "I don't know what the heck rhetoric is".
Lesson Learned:
People are challenged to define the word rhetoric. While Webster's defines rhetoric as the art of influencing the thought and conduct of an audience, I say simply "persuasive speaking." 99.9% of the time we are persuading someone to do something.
II. Who Said It?
"Life is a grindstone. Whether it grinds you down or polishes you up depends on what you're made of."
III. Mishmash of Value:
1. Favorite Olympic Lesson
I was addicted to the Olympics. I figured that if these athletes could work toward them for four years, I could watch. Even if I didn't always understand what I was watching i.e. short track or what looked like bumper cars on ice.
Lesson Learned:
My favorite lesson was learned watching cross country skiing. After grueling Women's and Men's events, it came down to milliseconds. And at the very end, as close as it was, the leader never turned to look at the competition. What discipline that must take, as you hear or feel your competition getting closer. Think about it. If you are in front by .3 seconds you can't afford the time to turn around. Do you lose precious time looking at your competition?
2. My GO DADDY Experience
GO DADDY spends millions of dollars on Super Bowl commercials. One might assume that a company spends marketing money on commercials in order to get business.
Lesson Learned:
In my office we tried GO DADDY. GO DADDY is a host provider. We tried to use GO DADDY to host my blog. It was a nightmare. They were so difficult to work with, to navigate, and to get help. Interesting that they spend so much money to get clients, and then are so difficult to work with once you are a client. Are you user friendly to your clients?
3. What Are Brakes?
Rick Jones, CEO Stanek Windows, told me a great story. Years ago he would race his then 5 year old daughter in go kart. Time and time again he would lose to her and not on purpose. Finally, he asked her how she kept winning even though he waited until the last minute to put his foot on the brakes. "What brakes?" she innocently asked.
Lesson Learned:
As five year olds we literally and figuratively did not know about brakes. As we get older, do we put the brakes on too soon? Do you know when to use the brakes and when to use the accelerator in your business?
4. Old Spice and Being Likable
The commercial has gotten 5 million hits on You Tube since the Super Bowl. It is so much fun to watch for many reasons. The best reason is the spokesperson, former NFL player Isaiah Mustafa. Whether half or mostly naked, on a yacht or a horse, saying look at me, now look at your man, back at me, back at your man, he is just likable. http://www.youtube.com/user/oldspice
Lesson Learned:
Marketing experts contend that the athletes who profit most from their Olympic medals will be the ones who are most likable. Likability has great value. How likable are you?
IV. Case Study: Boy Scout Motto-Be Prepared
What happened: I talked with a client about taking advantage of our video tape services. Client chose to put it off to some undisclosed time "down the road". In a private videotape session, our professional will videotape you, we play it back, I make suggestions, and we replicate the process again and again. You will be amazed at how much progress can be made in a couple of hours of one-on-one intense time.
Results: Client called from out of town with the opportunity to introduce a speaker in front of 500 people. Client said NOW he wished he had taken advantage of a videotape session. In a perfect world, you prepare before the opportunity presents itself. Then you will be amazed at how many opportunities do present themselves.
V. On TV and Live
TV--Forum 360 with Leslie as host on Time/Warner
Upcoming Shows:
Tamir Goodman-Life After Pro Sports
Lute Harmon Jr.-Challenges of 21st Century Print Media
Past shows can be seen on Local on Demand
Summit/Stark/Cuyahoga/Lake/Richland/Geauga/Mahoning Counties:
Channel 23 - Tuesday 9:30 pm, Thursday 9:30 pm, Saturday 5:30 pm
Radio: WONE FM 97.5 Sunday 6 am, WAKR AM 1590 Sunday, 8:30
In Person - Come and Join Us Can we keynote an event for you?
April 20 Rotary Club of Akron- "Find Your Inner Brilliance:7 Steps to Develop into a 21st Century Leader"
April 20 ASWA Akron/Canton- "Develop the Diva Within"
April 21 KNOW- The Multi-Generational Workplace
August 21 ASWA- Regional Use Communication to Succeed
HorseTalk: Lessons in Leadership May 20, 9-4 click here for info
We have 5 brave, smart, adventurous people attending this event, come join us.
VI. Answer
Booker T. Washington from Dave Gardner
"The Electric Impulse" Blog" Don't have to wait a month for my opinions! http://electricimpulse.wordpress.com for comments
To be removed from the subscription list, Email Leslie Copyright 2008. All rights reserved. We encourage sharing in whole or in part if copyright/attribution are included. *Coaching *Speaking *Strategizing