Electric Impulse Communications, Inc. Newsletter
September 2011
A monthly newsletter to transform ordinary leaders to extraordinary: in your company, profession, and industry. Based on coaching, writing, speaking and strategizing by Leslie G.Ungar to create leaders, improve communications, and build successful teams. www.electricimpulse.com
This newsletter includes: The Power of Perspectives
Please feel free to pass this newsletter to a friend or visit our website and we will add you to our complimentary mailing list. Past copies are available at: http://www.electricimpulse.com
I. Herbie's Helpful Hint (named after my Dad)
My Dad loved gadgets. What he loved more than the actual gadget was the new knowledge that came with new gadgets. Last week I was talking to Bill, a colleague I spent part of the original 9-11 day with ten years ago. We were talking about how different getting information was on that day. No one had the ability to get news on their phone. No one carried laptops around. And WI-FI was not available on every street corner.
Lesson Learned:
The challenge for a business and an individual is to know which new technology or information we need to perform at our highest levels and which does not help. In fact, sometimes the newest app actually gets in the way of being effective. Are you using technology to its best and highest use?
II. New ASK LESLIE
Each month we feature a new ASK LESLIE: a short video that will help you be more effective. This month's featured segment answers the ASK LESLIE question, how is leadership different in the 21st century? Listen and watch 2:16 of me wax poetic about today's leaders. Click here to hear an abbreviated version of 5 blind spots or what I refer to as Achilles Heels of Today's Leaders. Do you need an honest mirror to identify yours? Isn't it amazing that today anyone can have their own TV channel . . .on YouTube.
Click here to learn something new in 2 minutes and 16 seconds.
III. Mishmash of Value:
1. Bathroom Rendezvous
Recently I received an email requesting a video session with me. Gail, the name has been changed to protect the guilty, wrote that we had met several years earlier in the bathroom at the Rockside Holiday Inn! We had exchanged business cards and that is how she signed up for my newsletter. I sent my newsletter, and unbeknownst to me, she was reading it. For five years I heard nothing from her. When she realized she needed to upgrade her speaking skills, she contacted me.
Lesson Learned:
Our job, with focus and resiliency, is to put our message out there. Even when we think it may not do any good, even when we are tired, even when we can't see how it can help our strategic vision. We have to embrace this singular belief. A chance encounter in a bathroom led to a great client relationship and a client learning great skills. What message can you put out to the world?
2. A Manager with a Heart-On
How do you inspire salespeople? It's an eternal question asked by managers world-wide since time immemorial. Speedway, my favorite coffee stop, asks so much from their cashiers. They are expected to "sell" everything from cookies, fruitcakes, and stuff anyone can live without. Often corporate office sponsors contests.
Lesson Learned:
Their last manager had unique ways to motivate the cashiers to step up their sales skills. He offered to be Cupid for a day if they won the contest. What they did was ask every person who came to the cash register, one question? Do you want chocolate chip cookies today? They won. Here is how he came to work the next day. Are you offering your salespeople motivation that works? Are you inspiring them beyond their daily performance?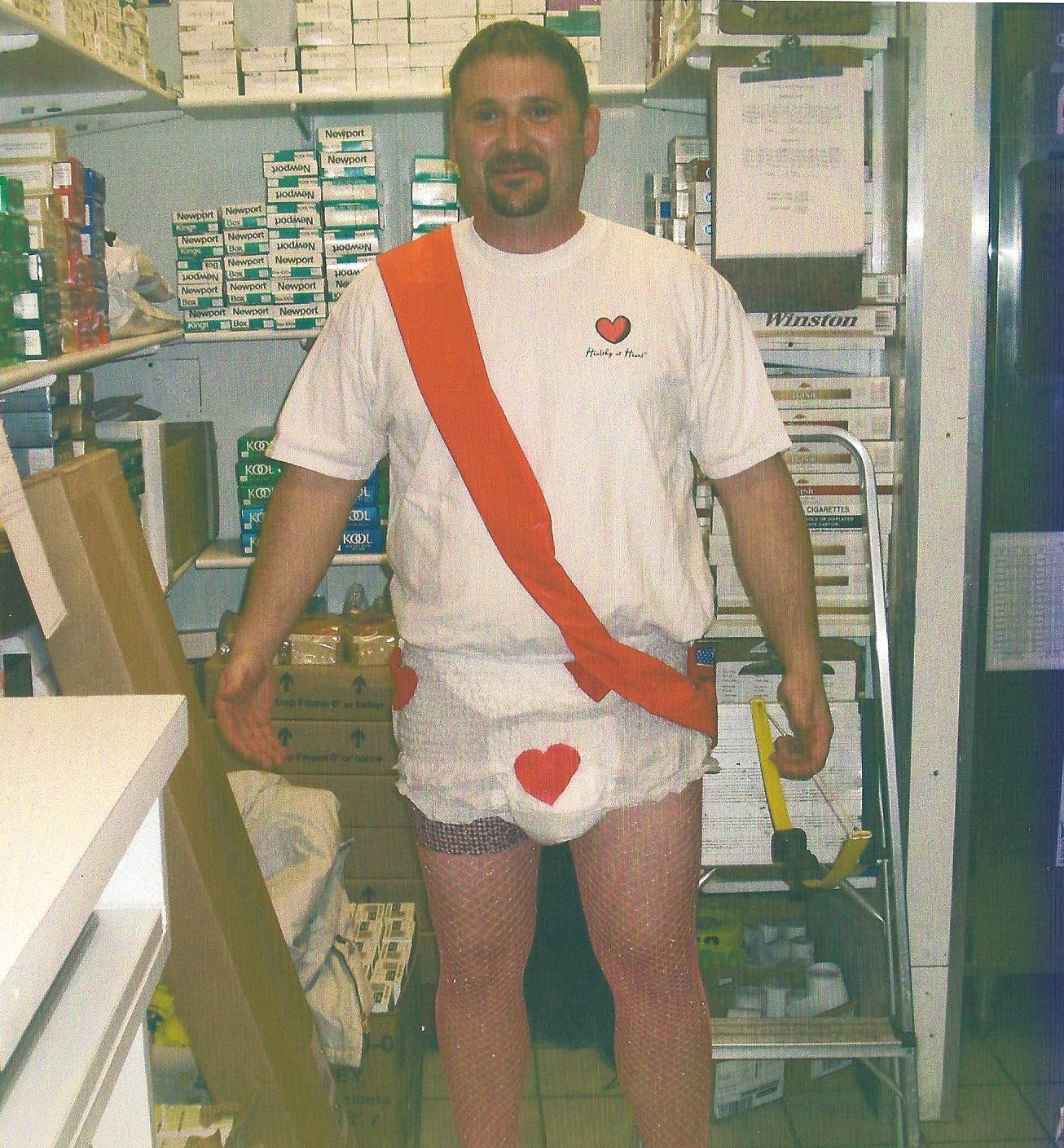 3. Hawkeye-The Navy SEAL Dog the World Fell in Love With
The picture of Hawkeye was a shot seen around the world. The Navy SEAL dog captured the hearts of millions as he lay at the foot of his master's casket. Slain NAVY seal Jon Tumilson was one of 22 Navy SEALS who died when Afghan insurgents shot down their helicopter.
Lesson Learned:
According to Jon's wishes Hawkeye is now living with the family who took care of him when Jon was on active duty. Hawkeye now has his own family both four-legged and two-legged. He is with a family he has known for a long time and has loved him for a long time. Even for man's most loyal companion, life goes on.
4. Menchies is a Mench
Just when you thought the ice cream/frozen yogurt market did not need another entry, comes Menchies. Started in 2007, there are already over 100 stores. Each store allows you taste any flavor you want to sample, and serve yourself. In an interesting aside, Menchies is a nickname for the wife of the husband/wife founders of the franchise. It comes from the Yiddish word Mensch which translates as "a good guy".
Lesson Learned:
Where is the crack in your market? Your market may seem saturated, but if you can find the crack, you too can expand like crazy in the next four years. And it doesn't hurt to be a mensch at the same time.
5. Politics And You
WOW- the Tea Party Republican Debate was quite entertaining. Before the primary season is over I expect Governors Perry and Romney to duke it out with their fists. The good news is that you did hear some differences. Differences emerged about illegal immigration, vaccinations for pre teen girls, and state rights.
Lesson Learned:
A debate between candidates may not seem as though it has much to do with your everyday life. A debate is a microcosm of everyone's communication challenges. How do you stand out in your crowded field? How do you be assertive without being aggessive? How do you take on your major competitor without looking like a bully?
IV. On TV and Live
Live: Come and Join Us
September 14 NALS -100 Tips in 100 Days
September 21 – Sixth District Teachers
October 21 – Sixth District Students
October 27 – Ohio Teachers Association

TV--Forum 360 with Leslie as host on Time/Warner
Playing this Week: Bailey's Heartstrings: A Story About a Dog and His Family
Guests Joy Chicatelli and Storm the French Mastiff
Week of September 19: What's New in the Akron Hospital Scene
Guest Vince McCorkle, CEO and President AGMC
Upcoming Shows:

From Harvard Law to Law and Order: Guest Peter Lawson Jones, esq.
Raising a Seeing Eye Dog: Luigi and his Puppy Walkers Kathy and Alex
***Channel 23:
Mondays at 12:30pm, Tuesdays at 10:30am and 3:30pm, Wednesdays at 2:30pm/ 7:30pm Thursdays at 10:30am, Fridays at 2:30pm, Saturdays at 4:00pm
Radio: WONE FM 97.5 Sunday 6 am, WAKR AM 1590 Sunday, 8:30 am
Past shows can be seen on Local on Demand
**Click here to watch clips from Leslie's past Forum 360 interviews**
V. Come and Be A Part of our Community
October 20-VideoTape and You 11:30am – 1:30pm
Come and be videotaped and learn!
http://electricimpulse.com/upcoming-events/videotape.php
November 1 at 4 pm Teleseminar: Next Generation Leadership
You can listen from any phone!
http://electricimpulse.com/upcoming-events/teleseminar.php
"The Electric Impulse" Blog
If you wonder what I think about current events, click here.
To be removed from the subscription list, Email Leslie Copyright 2011. All rights reserved. We encourage sharing in whole or in part if copyright/attribution are included. *Coaching *Speaking *Strategizing