| | |
| --- | --- |
| | February 2018 Newsletter |


| | |
| --- | --- |
| | |
Several years ago I was talking to a colleague at the National Speaker's Association. She mentioned giving a eulogy for both of her parents. I remember at the time thinking I just could never do that.
When my Dad died he had lived in Tucson just a couple of years. One thing I learned is that when people retire and move to another city or state, it's like they joined the witness protection program. They are known very differently by their new neighbors and peers. Life before people retired ceases to exist. The former cardiologist is known as the guy who plays tennis at 7am. Or the former business executive is known as the guy who walks the big dog every night. I could not have my dad buried with only strangers talking about him.
I knew I had to give a eulogy, and my sister felt the same way. We could not have him buried without the duck story.
Sometimes I am asked to write a eulogy. Sometimes I pull out of people what they need or want to say. I think a eulogy is SO important. The most important speech you will ever give, the final, formal good-bye. A eulogy needs to be like every other speech, but more so. It needs to be a speech that only you could give.
There are many nice things, great things, and important things that can be said about your loved one. What you want to find, dig for, uncover, and release are the things that only you could say about your loved one.

We continue to develop our series of 2-4 minute videos using a horse to teach communication and leadership lessons. T

his month features Arabian mare Grey Lady.

She will teach you to stay connected to your team even while you are in your office.

In the round pen, and in life, look at where your hips are placed, your eye contact and your focus
.

1. Neiman Marcus vs. Auto Repair
In my original package from NM, a stock person accidentally included a return label to the wrong location, another brand owned by the NM parent company. It took six weeks to correct their error. Chrissie at Neiman Marcus told me three different times that she would call me back in five minutes. The final time she told me "five." I called her back five hours later. During this same period of time, Lexus had referred Moshe's SUV to the Montrose Ford body shop. They delighted Moshe at every step of the way. Imagine that, an auto repair venue creating delight

.
Lesson Learned:
Customer service is a dinosaur. "Serving" someone or a constituency just isn't enough. You have to delight your customer, client, prospect, patient or guest. Even my veterinarian has chocolate to inhale while paying one's bill. Your choices are to delight someone or disappoint them. That's really it. You may say, "of course I don't want to disappoint a customer." Two recent experiences, Neiman Marcus disappointed and Montrose Ford of all places, delighted
.
If you are not delighting your clients then you are disappointing them.
These are two websites that each provide a service. One does it well and one makes the experience a torturous, non-productive experience. Gazelle.com pays you for your old electronics. You can go on-line before you send in any of your old stuff, to know what you will be compensated for on each item. They quickly notify you of the dollar value you will receive with their "happy email." ThredsUp is an on-line consignment shop. Their role is to market your clothes and supposedly pay you your percentage. They pay you pennies and in my case, did not return my unsold clothes as per my instructions
.
Lesson Learned:
One website experience was great and one was dreadful. I thought about what made the difference. Gazelle.com was referred to me by a very trusted source. I found ThredsUp myself, or they found me. I had no way to get a testimonial from someone I knew that knew them. Even in this time where we live on-line, personal referral is still hugely important

.
What can you do to give someone that support or to get that support from others

?
As you may have heard me say, I stop most mornings for my gas station coffee, the cheapest coffee in Akron, 79 cents. The other morning, they were out of regular coffee, none, zero, nada. This was at 7:30 am and not the first time this had happened. It happened again three days later.
Lesson Learned:
How can a gas station brew station be out of coffee? Is it that hard to keep the coffee brewing? It begs the bigger question, what is the goal of a gas station? To supply gas, coffee, pizza, hot dogs, milk, beer? What is the goal? What is the goal of your profession? Are you figuratively out of coffee? Speedway has 3 -4 employees on a shift and this gas station has one. Are you properly staffed?
4. Worst Job in Washington
It has become known as a curse. The person selected to give the opposition party's answer to the State of the Union has a tough job. We remember the failures and they live on over and over again in the viral world of social media. We won't soon forget then rising star Marco Rubio's dehydrated response while he guzzled water out of an out-of-frame water bottle.

Then-Gov. Tim Kaine's left eyebrow practically climbed off the top of his forehead and escaped into the Virginia night, then Louisiana Gov. Bobby Jindal shuffled forward like a nervous valedictorian to give a stiff, singsongy address, and last year the Democratic Party selected a former governor who looked over 100 years old

.
Lesson Learned:
This year Joe Kennedy III or JK3,
three-term Congressman was selected for the job. He looks so much like Joe Kennedy 2, the WW2 fighter pilot who was supposed to be the first Kennedy president. During his comments social media went crazy over his chapstick. The morning after, to his credit, he surfaced on "Good Morning America." He lampooned his glossy appearance. "Oddly enough, I decided to go a little bit light on the chapstick this morning," Kennedy said. "More on the coffee, light on the chapstick, which is probably a wise choice
."
How can you own your own mis-step?
5. Lessons from the OSCARS
The Oscars are very important to me and I have tried to make them important to you. I don't think they are just about Hollywood and designer dress. They are about how people, artistic, successful people identify their value, communicate their value, and protect their value in their dress and their acceptance speeches on this night of nights. Hours after the OSCARS are over, I will write on my blog my lessons learned.
Lesson Learned:
There are always lessons to be learned. Can't know what the lessons are until that night, I know there are lessons. One lesson I do know is that I used to write my observations and send them out to you hours after the show ended. The last couple years I post them on my blog for those who want to come to my blog to read my comments. Instead of pushing out my comments to you, you can pull them to you

. Are you pushing or pulling?

February 14 - Communicate Your Value at Akron Public Schools

April 26 - Leadership Seminar at the HBA


Forum 360 with Leslie as Moderator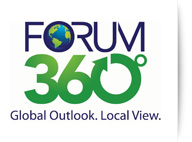 Upcoming Shows:

KOMAE - Create Your Own Babysitting Village
Guest:
Audrey Wallace, Co-founder
Guests:
Brian Fortney, Rockwell and Larry Moore, Summit County Veterans Commission
Watch/ Listen to Forum 360:
Western Reserve Public Media, PBS-TV, PBS Fusion Channels 45 & 49 (Time Warner channel 993) - Mondays at 8 pm and Saturdays at 5:00 pm. After the show airs, you can download it
here
.
WONE FM 97.5 Sunday 6 am

WAKR AM 1590 Sunday, 5:00 pm, Monday 12:30 am For online streaming go to
http://akronnewsnow.com/
and click Listen Live.
I believe good occasions are a season not a day. It is a birthday season not one day. Valentine's is a season too. Even though it is a day past, Benji sends his best Valentine wishes to you.
Valentine's week marks my second anniversary with Benji. It is hard to believe it has been two years. We have made it through gastric testing, poop charts, (yes there is such a thing) probiotics, special food, the special food being discontinued, two dog behaviorists, and three training schools.
I still believe that Benji was put in my life to teach me lessons. I still don't know what those lessons are supposed to be. I am still searching.
When he barks in the middle of the night and could wake up the dead, the lesson is what?
When while his believed Natcha is still sleeping he goes over to her and annoyingly barks so she wakes up and plays with him the lesson is what?
When 2-4 miles a day even in snow and cold do not tire him out, the lesson is?
When he lunges at dogs three times his size while on walks, but plays nicely in the dog park, the lesson is?
When I have to brush him three times a week, the first dog in decades that needed this much maintenance, the lesson is?
This Valentine's season I ask some of the questions. Perhaps next Valentine's season I will have some answers. Most importantly there will be lots of hearts.

Upcoming Events
| | |
| --- | --- |
| | |
| | Our Theme for 2018: Cowboy Up |
When: March 20th from 1pm - 5pm
Where: Electric Impulse Office
Sign up by March 1 for the Early Bird price of $118!


Join us from 1-5pm for lunch, hands-on learning, take home material and take home gift.
Hamlet asks the question, "to be or not to be."
We ask the question, "to Do or not to Do." In all aspects of communication is it "not enough to merely know. One must know and do."
We have named this Boot Camp the "to Do or not to Do" Boot Camp. Forget the days of just getting to sit there and take notes.
In this "To Do or not to Do" Boot Camp you will DO and/or LEARN TO DO in these ways:
Answer the what do you do question
Create 3 image-only slides for a PP
Craft a WOW for your intro
Put FUN in a presentation in an appropriate way
Add FUN to the workplace in appropriate ways
Video & You Workshop
When: April 24th from 5pm - 7pm
Where: Electric Impulse office
Join us at our next evening Video workshop. 2018 Price is ONLY $18!
You will have the choice to present your own material, recite a paragraph of a famous speech, be a TV guest, or conduct an interview. We will video and immediately play back what we recorded. I will make suggestions, audience members may have comments and suggestions, and then we will video you again. The improvement will be immediate.
Email us at
[email protected]
or text at 330.607.5730 for further information or to RSVP to one of our events. For more information visit our website:

Ask me about my 10 in 10!

| | |
| --- | --- |
| | |